Unpublished Fares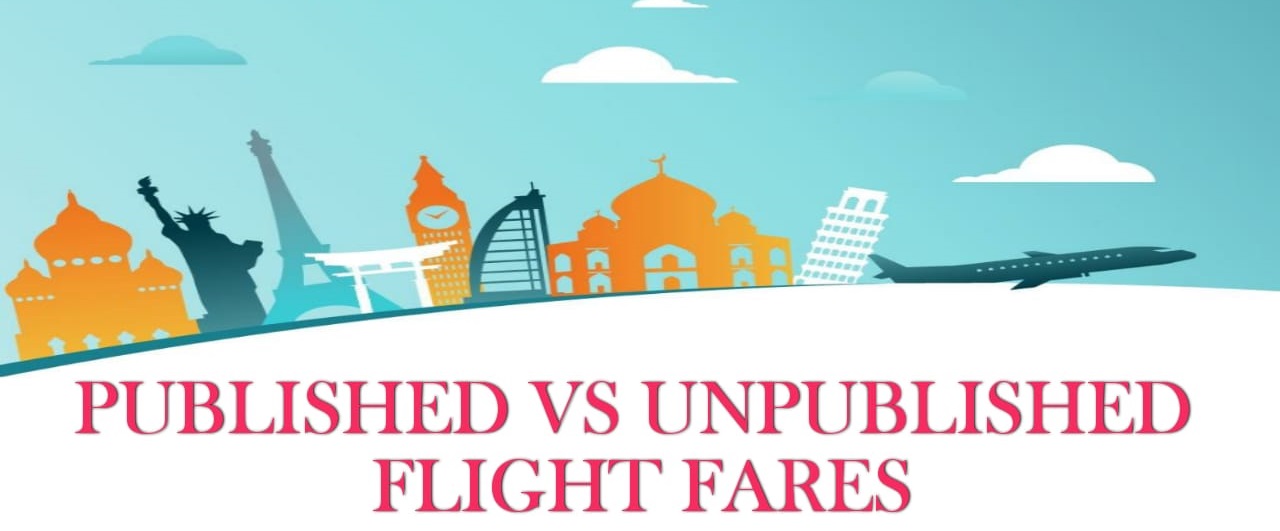 Published Vs Unpublished Flight Fares
The scope of Published and Unpublished fares is not necessarily known to many, resulting in an unguided search for the best options on various sites. Doing this may not be much beneficial if you are looking for cheap fares and your efforts may go in vain. Here is some useful information about published and unpublished fares:
Official websites of the airlines and some ticket booking sites such as MakeMy Trip, Cheap O Air, Akbar Travel, and the likes give published fares enabling the customers to get authentic information of tickets available for various places. The discounted fares presented by various travel agents are called unpublished fares.
What is Published Fares?
Generally published fares are available for anyone willing to purchase and you can see, compare and book through official websites of the airlines or any travel agents. You could call the concerned airline, or check for prices on websites to know the published fares which are immediately available for flight booking. Unrestricted or Full Fares, Discounted Fares, Early Booking, Excursion Fares, Joint Fares, and Through Fares are some published fares.
Types of Published Fares
- Unrestricted or Full Fares
Refund and exchange facility, apart from same day booking option, are some benefits available on Unrestricted or Full fare tickets.
- Discounted airfares
- Early Booking
- Excursion Flight Fares
Excursion fares, also called low fares, have some restrictions depending upon time, duration of stay and require purchasing onward and return tickets.
- Joint Fares
- Through Fares:
What is Unpublished Fare?

Unpublished Fares have different names like private fares, consolidator fares, and wholesale fares. Travelers are completely unaware of the Unpublished Fares as they are purchased and put on offer with discounts that are not available every time. Unpublished Fares are at variance with Published Fares in relation to prices and other facilities having a different set of rules. Availability has a lot of importance in such fares which makes some changes possible. You cannot place advance booking of tickets and, even the frequent flyer options are not useful sometimes. Calling the airlines to get information related to Unpublished Fares may be in vain as these fares are not offered by them.
There are many travel agents actively involved in planning and management of tours for people, and provide easy access to cheap airfares by putting in their best efforts. Therefore, a travel agency provides useful assistance in planning a tour. There are agreements between airlines and travel agents. The unpublished fares are offered by such agents and are different from regular ticket fares.
Why buy tickets from Agents?
Booking through agents provides flexibility while you are booking air tickets as you can bargain on pricing. Agents offer tickets at discounted rates; as a result, they face losses on tickets sometimes. It is definitely profitable to buy tickets from a travel agent, but not from an airline. Your friends and family will not be a burden on your pocket if you are buying tickets from an agent who sells tickets for low profits leading to cheap tickets and high performance of services. Travel agencies use different Global Distribution Systems to compare and sort out hotel rates. So, if you are looking for best travel options vis-à-vis prices and services, then, tour planning with a reputed travel agency will surely be a good decision which will lead to comfortable and hassle-free booking experience.